Classes @ Bridgeway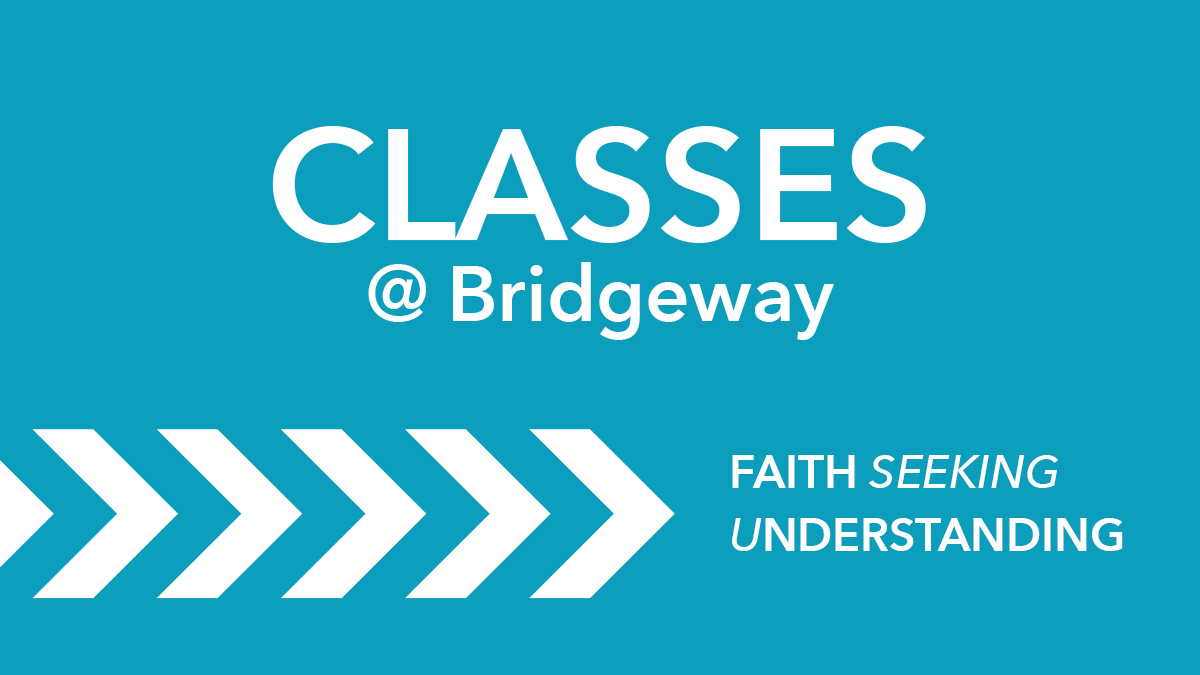 Bible & Theology Classes Men's Classes Women's Classes
We are excited to offer a wide range of classes at Bridgeway! We believe in faith seeking understanding and classes at Bridgeway are a great way to be equipped and encouraged in your faith. We have classes focused on the Bible, theology, culture, identity, spiritual practices, parenting, finances and more, so scroll down to find a class for you!
View the class descriptions, time and prices below! Classes and details, while very unlikely, are subject to change.
---
Bible & Theology Classes
How to Read Your Bible
Teacher: Pastor Matt Bach
*Available in person or online at RightNow Media
You love exploring the Scriptures in awesome sermons, but do you struggle to understand the Bible when you read it by yourself? Would you like to learn to read Scripture the same way our pastors do and gain better clarity and insight? In these seven sessions you'll develop a greater appreciation for the Bible and develop your ability to read it in a way that leads to increased comprehension and application!
When: Thursdays | 7:00 - 8:30 PM | Sept. 16th - Oct. 21st
Cost: $10.00, includes book, binder and printed/digital materials
New Testament 1: The Synoptic Gospels
Teacher: Dr. David Nystrom

This class explores Jesus and the Gospels. That is, the class is about understanding Jesus, the central themes of His teaching, what He said and what he did. We will do some serious thinking about what this all means for us and we will explore the backgrounds of the Gospels so as to illuminate the meaning of the life, death, resurrection and teaching of Jesus. Plus there might be ice cream. [A prerequisite of How to Read your Bible I or some level of biblical background is recommended].
Go to https://Westernseminary.edu/bridgeway to register and look over the syllabus!
When: Wednesdays | 5:30 - 9:30 PM | Sept. 8th - Oct. 13th
Cost: 40% discount at $99 per unit ($198 for class) for full audit with certificate through Western Seminary
Work as Worship
Facilitator: Rebecca O' Brien

Many Christians—from the CEO to the teacher to the stay-at-home parent—spend a great deal of time working and yet do not realize how our work intersects with their faith. We compartmentalize our faith to Sunday morning and see the rest of their week as having little to do with their walk with God. Scripture, however, makes no division between the sacred and secular parts of our lives. God gives us our work, talent and skills so that through them we might worship Him. This study will challenge all of us to consider why He may have you in your current position and encourage you to look beyond how your job makes you feel and see the purpose and significance in your work
When: Tuesdays | 6:30 - 8:30 PM | Sept. 14th - Oct. 19th
Cost: $5.00, includes binder & study guide
Writing as He Leads: Obeying God's Calling to Write
Teacher: Nancy Bramlett

If God has been whispering to you that He wants you to write something, then this class is for you! Take this first step and see what it takes to obey His promptings in a way that will succeed in getting His message to the people He wants to reach. Whether He is guiding you to write a short story, a devotional, a non-fiction book, a novel, a play, poetry, a memoir, a film script or anything else, there are a few key elements necessary to begin well. We will learn how those key elements apply to what you are feeling called to write. And we will practice taking our first thoughts through a few revisions to see what the whispers can become. We will end our class with a printout of our writing results and a celebration of what is to come.
When: Wednesdays | 7:00 - 8:30 PM | Sept. 15th – Oct. 20th
Cost: $10.00, includes printed/digital resources, snacks and drinks
The Sacred Search
Facilitators: Dan & Myla Champ

Whether you are single, dating, or engaged, this study will discuss dating and relationships and will prepare you for a satisfying, spiritually enriching marriage even before you walk down the aisle. It has been said, a good marriage is not something you find—it's something you make.
When: Thursdays | 6:30-8:30 PM | Sept. 16th - Oct. 21st
Cost: $10.00 per person
Parenting from the Tree of Life, Part 1
Facilitators: Keith & Susan Richey

Parenting from The Tree of Life is a multi-week study that equips parents to create a healthy, life-giving home environment and teach moral values based upon Biblical principles. Its goal is for kids to make proper choices out of the love of virtue. Part 1 focuses on life, children and relationships inside the home. Part 2 covers the critical components of character training, and Part 3 addresses discipline aspects such as encouragement, proactive training, and the correction side of parenting. [PLEASE NOTE: Part 2 will be offered Oct 31th - Dec 12, 2021 with Part 3 following in early 2022. Participants will need to sign up again for Part 2 and Part 3 classes but at no additional costs if they have already purchased materials from Part 1 of class.]
When: Sundays | 9:00 - 10:30 AM | Sept. 12th - Oct. 17th
Cost: $25.00 per book - couples can share
---
Men's Classes
The Gospel of Mark Part 1
by Francis Chan
Facilitator: Ed Doonan

The Gospel of Mark chronicles Jesus's journey from Galilee to Jerusalem. Along the way, the Messiah gathers a ragged band of disciples. As crowds grow and dwindle on the road to Jerusalem, only a few stick by the Suffering Savior on the road of discipleship. In this 11-part series on the Gospel of Mark, author and speaker Francis Chan invites us to walk with him along the ancient ways of the Master. Tracing the steps of Jesus and the Twelve through Israel, Francis explores the major themes of the Gospel of Mark, and asks: Are we willing to take this journey to embrace discipleship?
When: Mondays | 6:30 - 8:30 PM | Sept. 13th - Oct. 18th
Cost: Free
Your Time is Now
by Jonathan Evans
Facilitator: Lane Gibbs

The word "now" can be exciting or dreadful, depending on whether we feel ready for what comes next. But God can fulfill his purpose in our lives at any time—he does not need to wait on the right circumstances. Jonathan Evans encourages us to walk in God's purpose today and for the rest of our lives. Learn how our decisions and reactions to difficult circumstances can directly affect our ability to take hold of what God wants to give us right now.
When: Thursdays | 6:30 - 8:00 PM | Sept. 16th - Oct. 21st
Cost: Free
Conquer Series: The Battle Plan for Purity
Facilitator: Lane Leverett

Real men are rising up across our nation. These men are not just heroes on display, but heroes to their families – and heroes when no one is looking. These men are learning to become more than conquerors through Christ. You see, conquerors aren't born – they are made. This class is a cinematic teaching series on sexual purity to offer men proven principles and practical tools to conquer pornography and other sexual bondage.
When: Mondays | 6:30 - 8:30 PM | Sept. 13th - Oct. 18th
Cost: $49.00, includes book and workbook
---
Women's Classes
Elijah part 1

by Priscilla Shirer
Facilitators: Group 1: Michelle Bustos and Nancy Nash Lund, Group 2: Jane Jackson and Kathy Netto, Group 3: Linda Herrera and Julie Smith
In this faith-building study, you'll discover how Elijah's obedience to God kept him anchored, sharpened his faith, broadened his impact, and invited heaven's fire to fall. God is also working in your life today to fashion a fiery, bold faith that will empower you to share the hope of Christ with your family, friends, co-workers, and community. This session covers chapters 1-3 and chapters 5-7 will be offered in a separate, optional session following this one. A separate registration will be for part 2.
When: Tuesdays | 9:30 – 11:30 AM | Sept. 14th – Oct 19th
Cost: $25.00, includes study guide
Finding God Faithful Part 1
by Kelly Minter
Facilitators: Marge Durden and Linda Jacobs

Trace the path of Joseph's life in the Book of Genesis to observe how God's sovereignty reigns, even in our darkest moments. Learn to recognize when God is working during periods of waiting, trust God's plan when life doesn't make sense, and rest in the sufficiency of His presence in every circumstance. His provision is enough, His presence is constant, and His purpose is unstoppable. This session will cover Lessons 1-5 and Lessons 6-8 along with a recap will be offered in a separate, optional session. May attend one or both, separate registration for each.
When: Tuesdays | 9:30 – 11:30 AM | Sept. 14th – Oct. 12th
Cost: $20.00, includes study guide
Perfect Love
by Lisa Harper
Facilitators: Joanna Thomas and Patti Patterson

Lisa Harper walks women through the Song of Solomon. Though romance and marital love are typically associated with this book, Lisa takes a Christ-centered approach to illustrate how this ancient love story is relevant to your life and relationship with Jesus today. As she brings clarity to the text and as you watch real-life stories from other women, you will learn how to embrace God's perfect love and realize your own beauty and worth in God's eyes.
When: Thursdays | 6:30 - 8:30 PM | Sept. 16th - Oct. 21st
Cost: $10.00, includes study guide
Renewed
by Heather Dixon
Facilitators: Sheri Woods and Elaine Gazzolo

Few things make us feel as helpless as living with a story we don't like. Maybe one that involves the loss of a loved one, an unwanted transition, a difficult diagnosis, or a dream that fell through. At one time or another, we all deal with disappointments and feelings that life is unfair or that we are being punished.
When: Tuesdays | 6:30 - 8:30 PM | Sept. 14th - Oct. 12th
Cost: $15.00, includes study guide
The Book of Philippians
by Jo Saxton
Facilitators: Melissa Kruthoff and Deana Chitambar
The life Jesus invites us into when we follow him is one of sacrifice. But does sacrificial living mean the Christian life should be riddled with sorrow? Paul answers that question in his letter to the Philippians with a resounding no. Paul, and the Philippians with him, lived joyfully in the midst of persecution, prison, and poverty.
When: Fridays | 9:30 - 11:30 AM | Sept. 17th - Oct. 22nd
Cost: $10.00, includes study guide
Badge Bridges Studying Jonah
by Priscilla Shirer
[This is a bible study for the wives behind the badge and specifically aimed at supporting the unique challenges law enforcement families and marriages encounter. Because of the sensitive nature of their conversations, we respectfully request ONLY active duty, sworn peace officers' wives register.]
Facilitators: Kirsten Lauppe and Sara Brown

Interruptions. They're aggravating. Sometimes infuriating. But how we handle interruptions actually tells us more about ourselves. What do we do when God interrupts our lives? Many times, like Jonah, we run! Priscilla redefines interruption and shows that interruption is actually God's invitation to do something beyond our wildest dreams. When Jonah was willing to allow God to interrupt his life, the result was revival in an entire city.
When: Tuesdays | 6:30 - 8:30 PM | Sept. 14th - Oct. 19th
Cost: $20.00, includes study guide
Let God Be God Part 1
by Ray Stedman
Facilitators: Miriam Doonan and Barbara Baldwin
The book of Job is God's timeless illustration of human suffering, and author Ray Stedman helps you find fresh truths and encouragement in the midst of your own trials and helps put them into perspective―God's perspective―to guide you toward healing and peace. This session will cover chapters 1-8 (Job 1-26) with the remaining chapters offered in the next optional session.
When: Fridays | 9:30 – 11:30 AM | Sept. 17th – Oct. 22nd
Cost: $20.00, includes study guide.
Precepts - 1 Peter (Part 1)
by Kay Arthur
Facilitator: Trudy Wolcott

Are you prepared for suffering? Will trials and persecutions reveal your faith and bring glory to God? Listen to what Peter says to believers enduring tribulations. This session covers lessons 1-5 and a separate, optional session following will cover the remaining lessons.
When: Tuesdays | 9:30 – 11:30 AM | Sept. 14th – Oct. 19th
Cost: $25.00, includes study guide
Betrayal and Beyond
by Diane Roberts
Facilitator: Kim Ferrari

Betrayal and Beyond is different than most of the studies Bridgeway Women's Ministries offers. We are a special group of women, with unique interests, roles and stories, united by one common thing: we have all been impacted by the discovery that we are in relationships with men who struggle with pornography or sexual addiction.
Our biblically-based study allows us to grow in our understanding of this addiction, process through our complex thoughts and feelings, and support one another as we each seek to discern our path forward. This is a time when you need Christian women who can support you, women who can relate with the issues you face and who can help you find real and practical answers.
When: Mondays | 6:30 – 8:30 PM | Sept. 13th – May 16th, 2022 (No class 11/22, 12/20 - 1/9)
Cost: $30.00, book provided but journal must be purchased separately for the class
Mom's Group Studying Jeremiah
by Melissa Spoelstra
Facilitators: Corinne Marks and Jill Raby

Jeremiah offers women hope for living in an uncertain world by learning to navigate the challenges and circumstances of their lives. This study examines God's words of instruction to His wayward people through the prophet Jeremiah, and provides women six guidelines for intentional living to overcome fear, worry, and doubt as they surrender their wills to God's and put their hope in Him alone.
Limited childcare is available. Additional registration is required for childcare.
When: Wednesdays | 9:30 – 11:00 AM | Sept. 15th – Oct. 20th
Cost: $15.00, includes study guide
MOPS
(Mothers of Preschoolers)
Here at MOPS, we gather moms with children from infant to kindergarten. We believe in the simple but revolutionary idea that remarkable things happen when moms come together. That's why we rally women to help them become more brave, kind and honest, one gathering at a time, all sharing a similar desire to be the very best mom they can be.So, whether you are a soon-to-be mom, first-time mom or fifth-time mom, you are welcome here. Whether you are an adoptive mom, young mom, seasoned mom, foster mom, stepmom or any other type of mom, you are welcome here.
We are offering two options, either a Wednesday morning with childcare or a Tuesday evening without childcare.
When:
Option 1 | Wednesday | 9:30 - 11:30 AM | Sept. 15th – Oct. 13th [Session 2 is Nov. 3rd – Dec. 8th (break for Thanksgiving)]
Option 2 | Tuesday | 7:00 - 9:00 PM | Sept. 14th - Oct. 12th [Session 2 is Nov. 2nd - Dec. 7th (break for Thanksgiving)]

Cost: $65.00 for Mom, for both 5-week sessions. Childcare for Wednesday mornings only: $80.00 per child